Shipping costs and delivery times
Shipping is within Germany and the EU*, as well as to Great Britain, the USA, Australia and New Zealand. For shipping to countries other than the aforementioned ones, please contact me and we will see what can be realized on an individual basis. The country-specific shipping costs are graded according to quantity, as you can see in the following table: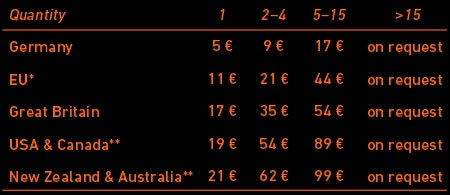 Delivery ready for dispatch in 1-5 working days.
Delivery within Germany in 1 to 2 working days.
Due to the Corona Pandemic, international delivery is currently with restrictions regarding delivery time and availability, so that unfortunately no reliable information can be given here at this point in time.
* The rates for shipping within the European Union apply to the following countries: Belgium, Bulgaria, Denmark (except Faroe Islands, Greenland), Estonia, Finland (except Åland Islands), France (except overseas territories and departments), Greece (except Mount Athos), Ireland, Italy (except Livigno and Campione d'Italia), Croatia, Latvia, Lithuania, Luxembourg, Malta, Monaco, Netherlands (except overseas areas), Austria, Poland, Portugal, Romania, Sweden, Slovakia, Slovenia, Spain (except Canary Islands, Ceuta and Melilla), Czech Republic, Hungary, Cyprus (Republic, except northern part).
** Due to the Corona Pandemic, some shipments may be made partially by sea, which may result in extended transit times for these regions.